Reception
Staff
Miss N. Rushton – Class Teacher
Mrs J Bradley - Class TA
Mrs S Clarkson - Class TA
Hello parents and children, a very warm welcome back to school. I hope you all have had a lovely restful Easter. We have a very exciting summer term ahead!
Play underpins the Early Years Foundation Stage. It also underpins learning and all aspects of children's development. Through play, children develop language skills, their emotions and creativity, social and intellectual skills. For most children their play is natural and spontaneous although some children may need extra help from adults. Play takes place indoors and outdoors and it is in these different environments that children explore and discover their immediate world. It is here they practice new ideas and skills, they take risks, show imagination and solve problems on their own or with others. The role that adults have is crucial. Adults provide time and space and appropriate resources. These might include clothes, boxes, buckets, old blankets that will inspire play and fire children's imaginations. They observe play and join in when invited, watching and listening before intervening. They value play and provide safe but challenging environments that support and extend learning and development.
Religion
Our focus for RE this term is 'Good News'. Through this scheme of work and our collective worship sessions we will explore the concept of 'good news' The children will know and understand that everyone has good news to share. They will also learn about the Pentecost: the celebration of the good news of Jesus.
Some questions to ask your child at home;
Have you ever received good news?
How did you receive the good news?
How did it make you feel?
Perhaps you can gather around a display or focus at home. Have a quiet moment together to reflect on and appreciate that everyone has good news. Play some quiet music. Celebrate the good news that you have heard. In the circle, Sing If you are happy and you know it with actions.
Reading for Pleasure
Reading for pleasure is enjoyed by our children and staff on a daily basis in Reception class. The children are beginning to develop a real love for reading. The teachers have set up 'read, smile and share' boxes containing all of their favourite books. Thank you to the parents for sending in photographs of your favourite book. Please do keep them coming - we hope to set up a parents box too.
We will continue to use and introduce high quality texts to develop our love of reading in Reception Class. The children have daily access to the books in our provision areas. We carefully plan our books according to the children's interests and use them to fire children's imagination and curiosity.
Please continue to read with your child at home each evening. This supports their phonetic knowledge as well as developing their love of books. Thank you for keeping the communication open by signing the reading diary, this helps us further support your child at school. The bookmarks are really useful and give some good ideas for questioning when reading with your child.
Following on from the parents meetings, you will find a list of targets in your child's reading communication book. Please do work through these with your child.
Reading Support
Here is a short video to help with blending the sounds together to read words;
https://www.bing.com/videos/search?q=ruth+miskin+set+2+sounds&&view=detail&mid=9B55C841D7A21443A2F79B55C841D7A21443A2F7&&FORM=VRDGAR&ru=%2Fvideos%2Fsearch%3Fq%3Druth%2Bmiskin%2Bset%2B2%2Bsounds%26FORM%3DHDRSC3
You can access 'Epic reading' with your child at home.
-Type in the classroom code MKA-3719
-Enjoy sharing stories together, listening to audio books and watching video stories.
Our Maths curriculum embeds mathematical thinking and talk. To support and direct our teaching and learning, we follow the scheme 'White Rose Hub'. The scheme builds on the content of the previous topic and allows for key mathematical concepts to be revisited and developed further across the year.
Each phase has a number focus and suggested links to measure, shape and spatial thinking. The phase will be begin with this term is 'Building 9 and 10!'
In the summer term we will learn –
To count to 10 forwards and backwards

To represent 9 and 10 in different ways

To make groups of 9 and 10 using tens frames, fingers and bead strings

To make simple comparisons - more, fewer and the same as

Number bonds to 10 (adding numbers together to make 10)

Explore and manipulate 3D shapes through play

To learn about complex patterns
Reading to children is an essential part of their mathematical development. There are several books you can read to support learning in this phase;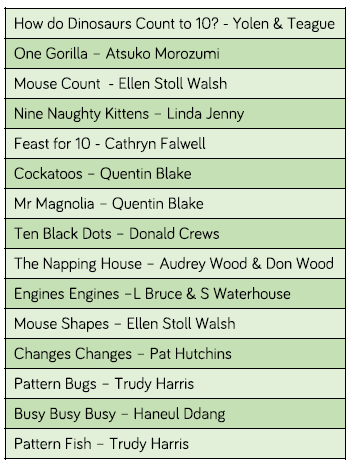 Have a look at 'Numberblocks' – we use the videos and visuals to support and develop our mathematical understanding;
https://www.bbc.co.uk/iplayer/group/b08bzfnh
The open ended provision in class will help the children to practise what they have learned during whole class sessions as well as becoming independent in creating their own challenges through many play opportunities during the school day.
Please click here to the home learning page for this phase https://whiterosemaths.com/homelearning/early-years/alive-in-5-week-1/
Parents notices
-Please send your child in to school each day with a waterproof coat and a pair of wellies (we love to get wet and muddy and play outside in all weather conditions)
-Please practice self-help skills at home such as putting own coat on and fastening independently
-Ensure all clothing is name labelled
-Water bottles to be brought to school each day and refilled at home
-Children to come to school every Wednesday dressed in their PE kit (white t-shirt, navy/black shorts or jogging bottoms with school jumper on)
-Book bags to be brought in once a week on your child's reading day
Please follow the links below to the sites to support learning from home