Welcome to the Reception Class Page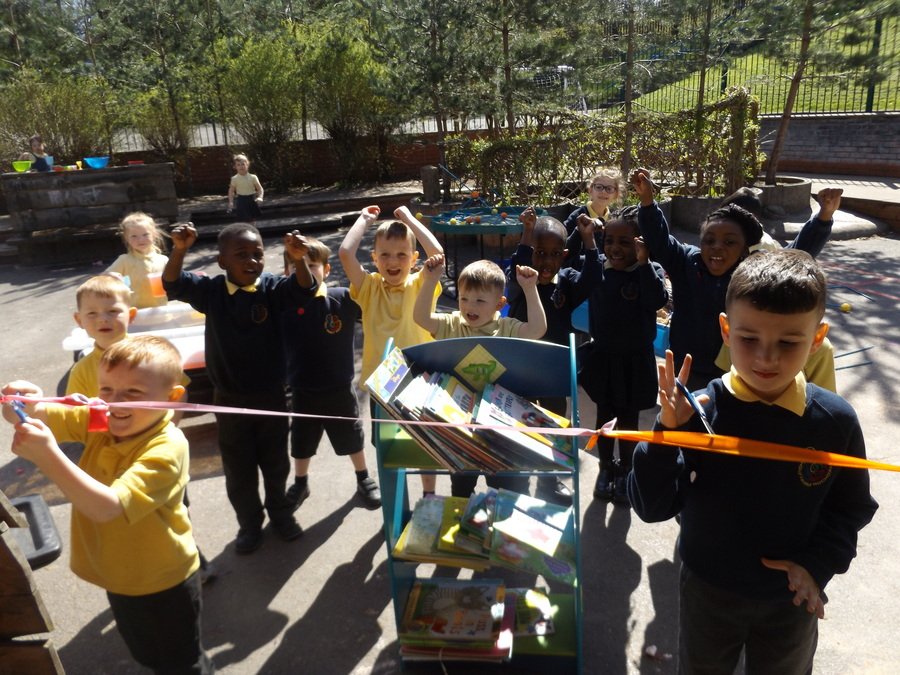 Miss Miss H Akhtar – Class Teacher
Mrs J Bradley - Class TA
Mrs S Clarkson - Class TA
Summer Term 2023
The Reception class assembly will take place on Friday 12th May.
Our class visit to Smithills Hall Farm is on Thursday 6th July.
In our final term together, the children will continue to develop their knowledge and understanding of the world through play. The staff will continue to observe, interact, support and challenge your children in the areas of provision. They will be encouraged to begin to make links in their learning and consolidate the skills they have learned this year. The focus will be on getting the children ready for Year 1 and achieving a good level of development for Reception.
Our current topic is Animals. The children have been learning about Zoo animals and pets. They have been enjoying playing in the Veterinary surgery in the classroom and the Zoo reading area.
Our writing focus is 'journeys'. The children have been writing about ways they might travel to places around the world and what they might do there.
Family mornings
Thank you to our families for joining us each Thursday morning. It has been our pleasure to invite you in to class each week. The children have been enjoying showcasing their learning and having the chance to interact with you in their classroom environment. Please do use this opportunity to ask any questions you may have. Your contributions are very important to us so if there is anything you want to tell us about your child's learning and development, please do share with the staff.
Religion
Our initial focus for RE this term is 'Good News'. Pupils will know and understand that everyone has good news to share. They will learn about the coming of the Holy Spirit (how Jesus' friend's experienced the coming of the Holy Spirit and sharing the Good News with each other that Jesus is alive).
Some questions to ask your child at home;
Q How did the friends of Jesus feel after he went back to his Father?
Q Have you ever felt like that? When?
Q What did the friends of Jesus do?
Q What happened on Pentecost day?
Q How did the friends of Jesus feel?
Q What did the friends of Jesus do after the coming of the Holy Spirit?
Our next topic will be 'Friends'. Through this scheme of work and our collective worship sessions the children will learn and understand that we can make friends, Jesus had good friends and what Jesus tells us about friendship.
Some questions to ask your child at home;
Who are your friends?
Why are they your friends?
Are you anyone's friend?
Spend time together at home and gather round a focus. Have a quiet moment together to reflect on and appreciate how we all have friends and are a friend to others.
Think about our friends.
Appreciate what makes a good friend.
Consider how friendship can be spoilt and how we can make up.
Celebrate friendship.
We will end the term by focusing on the 'Our World' topic. Pupils will know and understand what we love and wonder about our world. They will learn about how people live in other parts of the world and learn to appreciate the things God has given us.
Reading for Pleasure
Reading for pleasure is enjoyed by our children and staff on a daily basis in Reception class. The children are developing a real love for reading.
We will continue to use and introduce high quality texts to develop our love of reading in Reception Class. The children have daily access to the books in our provision areas. We carefully plan our books according to the children's interests and use them to fire children's imagination and curiosity. If you have any favourites or have recently enjoyed a book at home, please do let us know - we love story recommendations!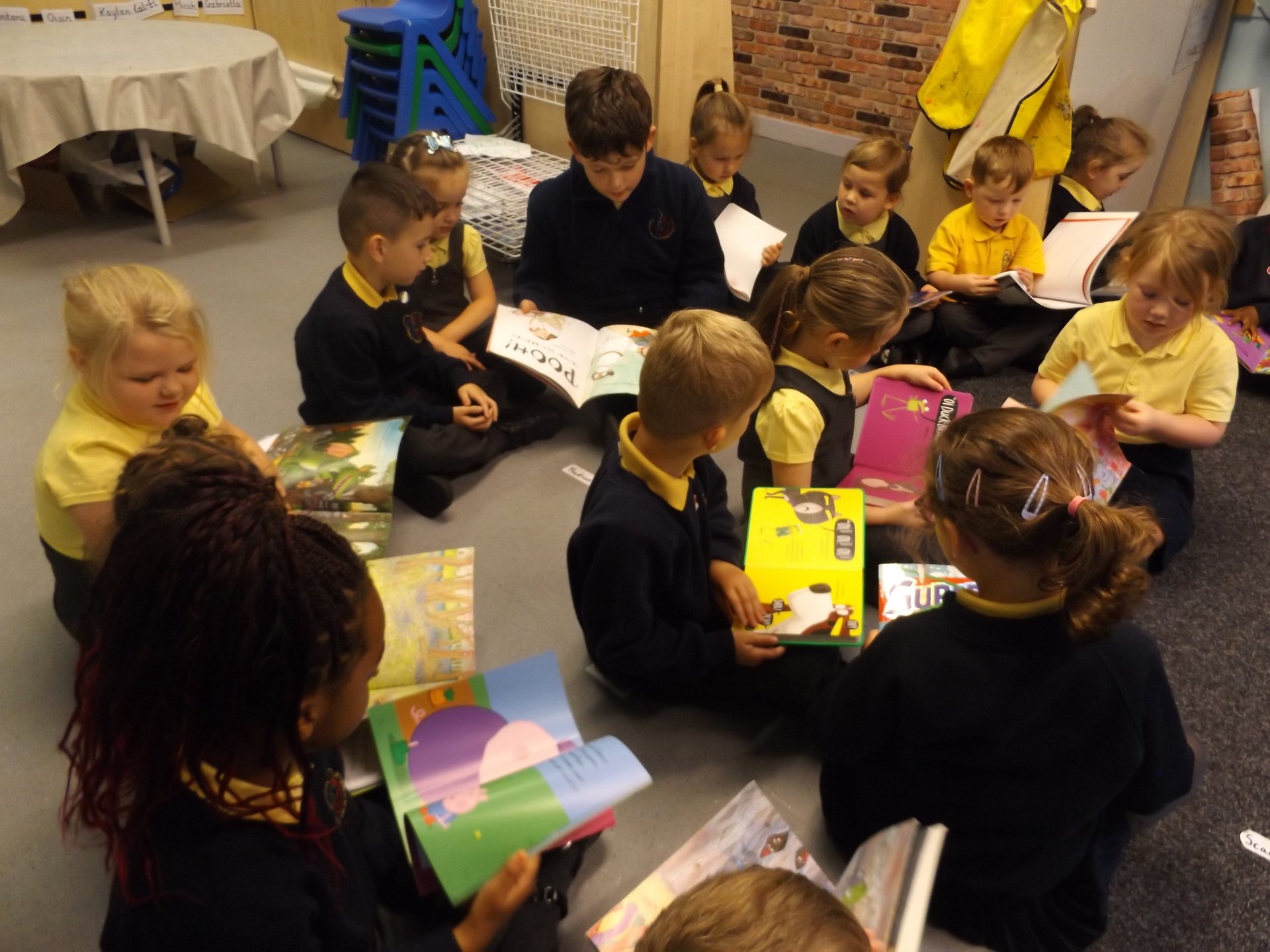 Reading at home
Please continue to read with your child at home each evening. This supports their phonetic knowledge as well as developing their love of books. Thank you for keeping the communication open by signing the reading diary, this helps us further support your child at school. The bookmarks are really useful and give some good ideas for questioning when reading with your child.
Children take home the following:
- A phonetically decodable Phonics book which is changed every 3 days.
- A reading book that matches their Phonics level. This is changed weekly (depending on your child's reading day).
- A story book to share at home
Please do make use of the Blanks questions when reading at home - they will support your child's understanding of the story and develop their comprehension skills.
Star Reader
We have seen some wonderful reading in Reception and choosing our Star Reader each Friday can be a very difficult decision.
We encourage the children to read using their phonic knowledge. You can encourage your child to read their reading book at home.
The child who we see doing some super reading in Phonics lessons or in the classroom, will get the award and a special prize at the end of the week.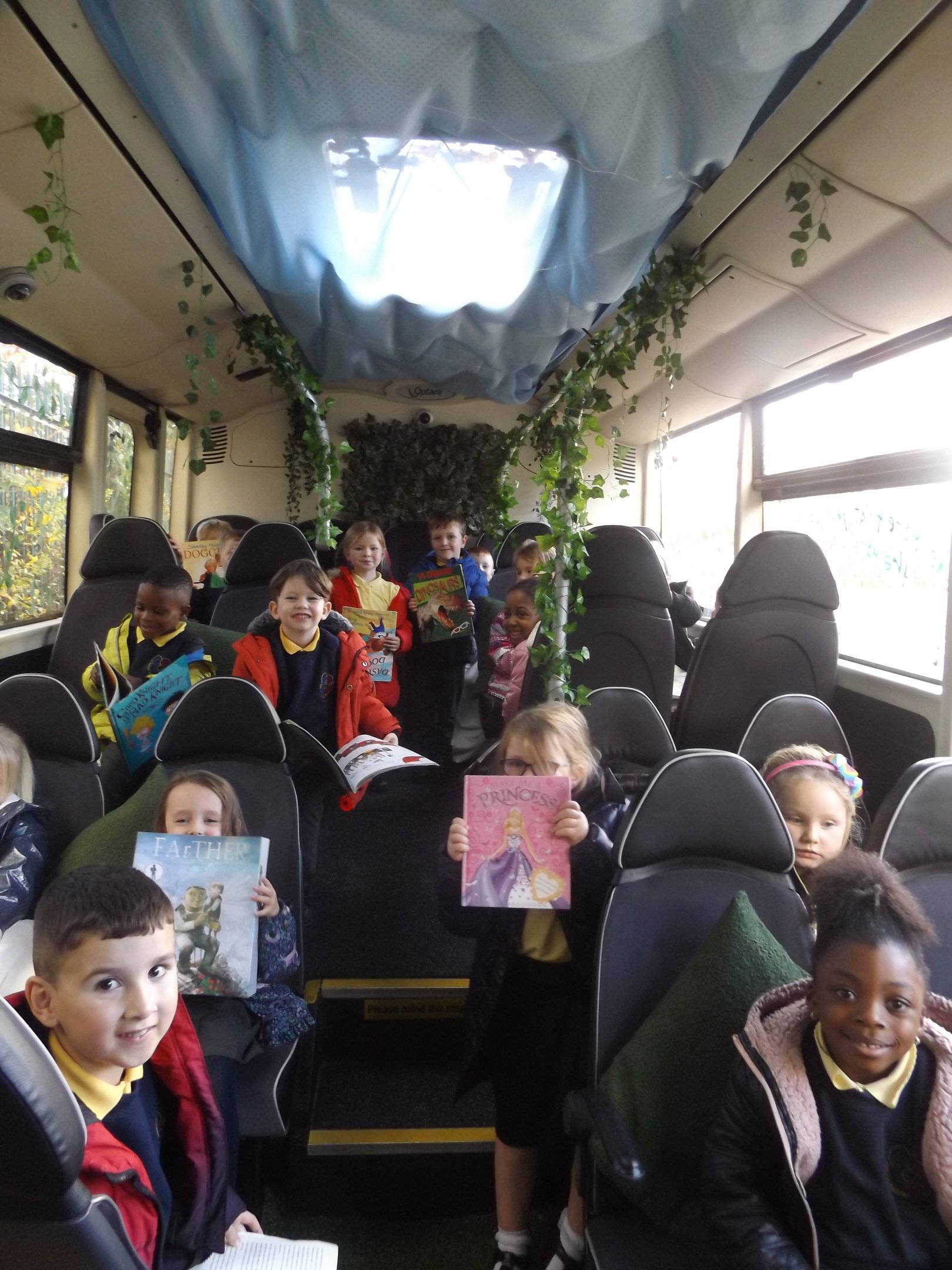 Star Writer
Wow, what wonderful writing we have seen recently in Reception class! Choosing our Star Writer each Friday is a very difficult decision.
We are encouraging the children to write independently using their phonics knowledge. You can encourage your child to write at home. Be sure to keep it interesting and purposeful.
-Can you help me write a shopping list?
-Shall we make a birthday card for a family member?
-Let's make an invitation to a party.
-Can you write your favourite story?
-Why don't we write a silly sentence?
We love to see and share the writing from home so please do bring it in to show us - they could be chosen for our Star Writer Award!
Weekly spelling test
Pupils will complete a spelling test every Tuesday in school. New spellings will be sent home each Wednesday, please take time to practise these at home.
Phonics Support
Thank you for your support in completing the phonics activities sent home. The staff are very impressed with the children's progress in learning to read words and simple sentences.
This term we are continuing to develop reading fluency and accuracy.
All of the children have learnt Set 1 sounds and are now working on learning set 2 and 3 sounds. They are learning to recognise these sounds in words and apply them to spelling.
Parents, click here to watch a short video to help with blending the sounds together to read words (Fred talking)
Here you will find fun learning ideas for 5 year old children to support their reading development. There are rhyming games, phonic games, memory games, listening games and much more.
https://home.oxfordowl.co.uk/kids-activities/learning-activities-age-5/
The following site has many free phonics games;
Maths
Our Maths curriculum embeds mathematical thinking and talk. The open ended provision in class will help the children to practise what they have learned during whole class sessions as well as becoming independent in creating their own challenges through many play opportunities during the school day.
To support and direct our teaching and learning, we follow the NCETM Mastering Number programme.
In the Summer term the children will consolidate their counting skills, count to larger numbers and develop a wider range of counting strategies. They will secure knowledge of number facts through varied practice.
Pupils will:
• continue to develop their counting skills, counting larger sets as well as counting actions and sounds
• explore a range of representations of numbers, including the 10-frame, and see how doubles can be arranged in a 10-frame
• compare quantities and numbers, including sets of objects which have different attributes
• continue to develop a sense of magnitude, e.g. knowing that 8 is quite a lot more than 2, but 4 is only a little bit more than 2
• connect quantities and numbers to finger patterns and explore different ways of representing numbers on their fingers
• hear and join in with the counting sequence, and connect this to the 'staircase' pattern of the counting numbers, seeing that each number is made of one more than the previous number
• develop counting skills and knowledge, including: that the last number in the count tells us 'how many' (cardinality); to be accurate in counting, each thing must be counted once and once only and in any order; the need for 1:1 correspondence; understanding that anything can be counted, including actions and sounds
• compare sets of objects by matching
• begin to develop the language of 'whole' when talking about objects which have parts
• understand that two equal groups can be called a 'double' and connect this to finger patterns
• sort odd and even numbers according to their 'shape'
• continue to develop their understanding of the counting sequence and link cardinality and ordinality through the 'staircase' pattern
• order numbers and play track games
• join in with verbal counts beyond 20, hearing the repeated pattern within the counting numbers
• begin to generalise about 'one more than' and 'one less than' numbers within 10
• continue to identify when sets can be subitised and when counting is necessary
• develop conceptual subitising skills including when using a rekenrek
Our children love to watch Numberblocks - we use the videos and visuals to support and develop our mathematical understanding.
Follow this link and enjoy the videos and activities at home with your child.
Parent notices
Please send your child in to school each day with a waterproof coat.
Please practise self-help skills at home such as fastening their coats independently.
Ensure all clothing is name labelled.
Water bottles to be brought to school each day and refilled at home.
Children to come to school every Wednesday dressed in their PE kit (white t-shirt, navy/black shorts or jogging bottoms with school jumper on).
Book bags to be brought in once a week on your child's reading day.
Please bring a pair of wellies into school so that we can use them when we play outside in wet and muddy weather conditions.